DONOR-ADVISED FUNDS
Donor-Advised Funds (DAF) are a tax-efficient way to manage charitable donations.
DAF Direct makes it easier to support your favorite charities by giving directly from your donor-advised fund.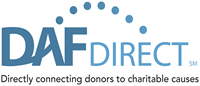 Donor-Advised Funds allow donors to make a charitable contribution, receive an immediate tax deduction and then recommend grants from the fund over time.
Isaiah House collaborates with some of the largest DAF sponsor organizations and their philanthropic services teams in the United States.
Grants made to Isaiah House through Donor-Advised Funds can be designated in one of two ways:
Funds can be allocated for Isaiah House to utilize wherever the need is greatest.
Funds can be earmarked for a specific thematic area that aligns with the donors' interests, such as education, emergency response, health, nutrition, or child protection.
Clients of BNY Mellon, Fidelity Charitable, and Schwab Charitable can make designations through the DAF Direct window on this page.
Isaiah House's tax I.D. number is 22-2699121.
For more information, please contact the team.